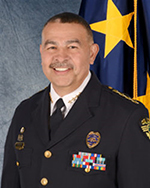 Chief – Orlando Police Department
Orlando Rolon is the 39th Chief of Police for the City of Orlando and the first Hispanic to hold this position in the Department's 145-year history.

Chief Rolon was born in Puerto Rico and moved to Central Florida in 1977. He attended middle school and High School in Orlando and enlisted in the United States Marines Reserves in 1982. He served four years in the USMR and worked in construction as a developer's assistant superintendent before joining the Orlando Police Department in 1992. Chief Rolon grew up in a lower middle-income household. His family upbringing taught him the importance of hard work and respect for others.

During his career he was named as the first Hispanic spokesperson in the history of the agency which allowed him the opportunity to address the traditional, and at the time (1998-2003), emerging Orlando Hispanic media market. His experience as the agency's first bilingual spokesperson gave him his current ability to effectively manage media under difficult circumstances. He has a passion for Community Oriented Policing and encourages embracing technology to best support efforts which yield improved transparency.

Chief Rolon recognizes change is constant and we must adapt quickly to change. He understands the importance for the law enforcement profession to listen to our citizen's concerns and the importance to formulate ways to enhance the way we serve our citizens. Chief Rolon recognizes there is always room for improvement in all professions and all lines of work. He recognizes positive change can be made while balancing the needs of the citizens and safeguarding those willing to sacrifice all for someone they might never know.

He recommended and managed the agency's participation in President Obama's Police Data Initiative. The Orlando Police Department was the first agency in Florida to volunteer to be part of this program and continue to expand this effort for meaningful transparency. Department Data analytics at the fingertips of our citizens is a must in our efforts to strengthen trust in the community and show transparency.

He is a graduate of the Southern Police Institute Command Officer Development Course, the FBI National Academy, Major Cities Chiefs Association Police Executive Leadership Institute (PELI IV), Mayor's Executive Leadership Class, Florida Police Chiefs Association Future Chief's Seminar, and the FBI Florida Executive Development Seminar.

Orlando Rolón is a member of FBI National Academy Association, Florida Police Chiefs Association, Central Florida Criminal Justice Association, Major Cities Chiefs Association, and the International Association of Chiefs of Police. He is currently serving on the Florida Police Chiefs Subcommittee on Accountability and Societal Change where they are working to develop strategies to rebuild trust and accountability between law enforcement and the communities they serve. He was also recently voted by his peers of the Major Cities Chief Association to serve as the Eastern Region Representative for their Board of Directors.

Chief Rolón is married to Dr. Giorgina Pinedo-Rolón and credits her with the person and professional he is today. He also has a son, a daughter, and four grandchildren.