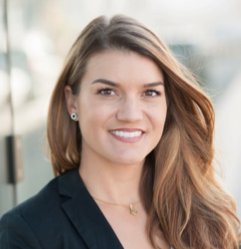 Director of Special Projects
Monica is the Director of Projects for the Major Cities Chiefs Association. She previously served as a police officer in Las Vegas, Nevada before working as an intelligence analyst with the Southern Nevada Counter Terrorism Center. She has an extensive academic and professional background in national and international security and a working knowledge of current and emerging threats to the public and law enforcement. During her time as a commissioned police officer she worked in intelligence, specializing in crime trend analysis and sought creative ways to combat crime and other challenges within the community. As an analyst, she served as a subject matter expert on domestic extremism working with law enforcement and private sector partners to prevent mass casualty incidents as well as school related violence.  
Hailing from Los Angeles, Monica obtained high honors as a student athlete at San Diego State University where she double majored in Public Administration and International Security and Conflict Resolution. She's lived in both Germany and Switzerland for many years where she obtained a master's degree in Global Studies from the University of Lucerne where she focused on international law and counter terrorism. Having worked at the United Nation's for the Office of the High Commissioner for Human Rights in Geneva, Switzerland she brings a unique global perspective to the Major Cities Chiefs Association.
She believes the key to reducing crime and preventing violence is by fostering strong relationships within the community and thinking outside of the box to create effective and long-term law enforcement strategies.