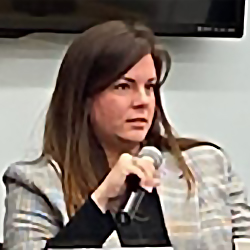 Laura Cooper joined the Major Cities Chiefs Association after having served at Brooks Bawden Moore, LLC and The Charles Group, LLC as Director of Government Affairs. Laura has managed legislative affairs for corporate clients and premier law enforcement organizations, including the Major County Sheriffs of America (MCSA). She has been at the forefront of today's leading public safety policy initiatives and has worked extensively on criminal justice, national security and technology issues.

She has experience in handling all facets of law enforcement policy including appropriation and authorization priorities such as law enforcement equipment acquisition, encryption, privacy, asset forfeiture, federal grants, mental health, and immigration enforcement.

Laura has fostered and maintained partnerships across all aspects of public safety and is a Capitol Hill veteran with extensive experience managing complex legislative issues. She began as an intern in the office of Congressman Bobby Schilling and later joined Congressman Rich Nugent's team where she quickly rose through the ranks to Legislative Assistant. She has coordinated state and local level working groups, bipartisan efforts to resolve challenges, and has written several pieces of legislation.

Laura is a graduate of Virginia Tech and is based in the DC metro area.