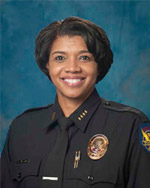 Jeri L. Williams - President
Chief of Police – Phoenix Police Department
Jeri L. Williams was appointed Police Chief of the Phoenix Police Department in October 2016. She oversees the largest police department in the State of Arizona, which provides law enforcement services to the fifth largest city in the United States. Chief Williams manages 2,900 sworn officers and more than 900 civilian employees along with an annual budget that exceeds $600 million.

Chief Williams is a 30-year law enforcement veteran and an accomplished police executive. Under her leadership, the Phoenix Police Department is advancing progressive strategies essential in contemporary law enforcement. Core components of these efforts are centered on the suppression and prevention of crime, the continuation of community engagement and outreach, the promotion of transparency and accountability to increase legitimacy and the commitment to employees and their well-being.

Previously, Chief Williams served nearly six years as Police Chief in the City of Oxnard, California where she strengthened police-community relationships and oversaw the implementation of police body-worn cameras.

Chief Williams is a native Phoenician. She began her law enforcement career with the Phoenix Police Department and retired as an Assistant Chief after 22 years of service following her selection as Oxnard Police Chief.

Chief Williams is a member of the International Association of Chiefs of Police (IACP), the Major Cities Chiefs Association (MCCA) and the Arizona Association of Chiefs of Police (AACOP).

During Arizona's Centennial year, Chief Williams was honored as one of Arizona's 48 Most Intriguing Women by the Arizona Centennial Legacy Project, in partnership with the Arizona Historical Society and the Arizona Community Foundation for her leadership in the law enforcement profession. In 2016, Chief Williams was recognized as California Assembly District 44 Woman of the Year for her leadership and outstanding accomplishments as Chief of the Oxnard Police Department and in late 2016, President Obama appointed Chief Williams to a membership position on the Medal of Valor Review Board.

Chief Williams holds a Bachelor of Arts degree in Fine Arts from Arizona State University and a Master's degree in Education from Northern Arizona University.