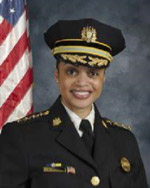 Danielle Outlaw - Second Vice President
Philadelphia Police Commissioner
Philadelphia Police Commissioner, Danielle M. Outlaw, is an experienced and respected law enforcement leader. She stands at the helm of the nation's 4th largest police department, which employs more than 6500 sworn officers and 800 civilians who work to help make Philadelphia a safer city. Commissioner Outlaw is the first African-American woman to lead the Philadelphia Police Department.
A believer in the power of connectivity and continued learning, she meets people where they are, engages critics and contributes nationally and internationally to ensure the Department's narratives are accurately told, and to benchmark against other organizations to ensure best practices in contemporary policing here. Her overarching community safety goals are rooted in crime prevention and reduction, organizational excellence and community engagement and inclusion.
Commissioner Outlaw's TEDx Talk – Humanity In Authority – dispels the belief that the two concepts are contrary in nature and explains how the two concepts can, and should, co-exist. She has also presented on various topics including Race and Policing, Women in Law Enforcement, De-escalation and Investigation of Use of Force, Building Community Relationships after Controversy, and Video Recording in Policing and Early Intervention Systems. She has been asked to provide technical assistance in areas of police accountability and risk management.
Prior to taking the helm as Philadelphia's top law enforcement officer, Outlaw was the Chief of Portland, Oregon's Bureau of Police. She was the first African American woman to hold that post. Commissioner Outlaw began her law enforcement career in Oakland, California where she spent 20 years in service with the Oakland Police Department.
The Oakland, CA native has received numerous awards, including the Police Executive Research Forum (PERF) Gary P. Hayes Award, the Cascadia Behavioral Healthcare Culture of Caring Award for Community Relations and Civic Engagement, and has been honored as a 2019 Marie Lamfrom Woman of Distinction by the Girl Scouts of Oregon and Southwest Washington.
Commissioner Outlaw earned a Bachelor of Arts in Sociology from the University of San Francisco and a Master of Business Administration from Pepperdine University. She is also a graduate of the Police Executive Research Forum Senior Management Institute of Police, the Major Cities Chiefs Association Police Executive Leadership Institute and the FBI National Executive Institute.
Commissioner Outlaw is a member of the International Association of Chiefs of Police Human and Civil Rights Committee and is also an active member of the National Organization of Black Law Executives. She recently joined the Major Cities Chiefs Association Executive Board as the Eastern Region representative. She continues to demonstrate her civic advocacy through Alpha Kappa Alpha Sorority, Incorporated and The Links, Incorporated.