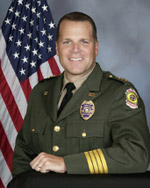 Chief – Wichita Police Department
Chief Gordon Ramsay was appointed as the Wichita Police Chief in January 2016.  Prior to that, he had worked his way up the ranks of the Duluth, MN Police Department, and served as police chief from 2006-2016. Chief Ramsay got an early start in policing at the age of 20 and has been committed to the community policing philosophy in all his positions.
As the Wichita Chief, he has focused on building strong relations with our community to lower crime and increase satisfaction with police.  Working with community and elected officials, he established a successful citizen review board and initiated liaisons with disenfranchised communities focused on building trust. Chief Ramsay has been recognized by many community groups for his leadership, including the NAACP and Greater Wichita Ministerial League.
Chief Ramsay was appointed to the President's Commission on Law Enforcement and Administration of Justice in 2020, which is studying ways to make American law enforcement the most trusted and effective guardians of our communities.
Under Chief Ramsay's leadership, police have fully implemented police body cameras, use of force training has improved, and fatal officer-involved shootings have decreased along with the use of force lawsuits. 
Chief Ramsay has his Bachelor's Degree in Criminology and Sociology and a Master's Degree in Management. He previously served as the General Chair of the Mid-Sized Agency Section (2012-2013) of the IACP, President of the Minnesota Chiefs of Police Association (2014-2015) and is currently an Advisory Board Member of the Council of State Governments-Justice Center and on the Board of the Wichita area YMCA's and the Boys and Girls Clubs of South Central Kansas.  He is a graduate of the FBI National Academy session 222.